Name: Marianne DuQuette Cuozzo
Occupation: Artist
Location: Long Island, New York.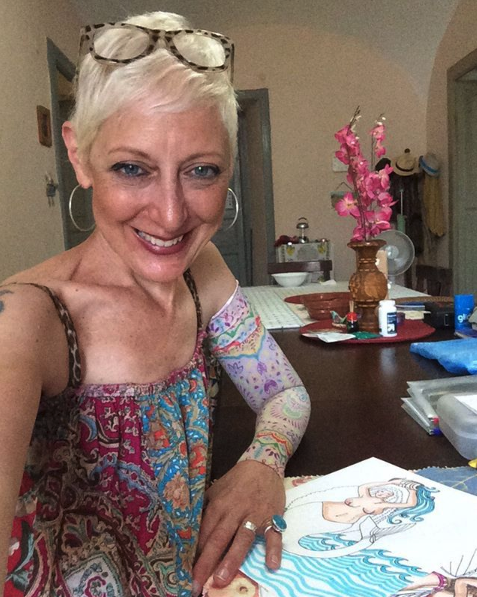 I am a 3 x cancer survivor. I was diagnosed at 28 (1994) with Hodgkin's Lymphoma, had splenectomy and medieval amounts of radiation to my chest. In 1997 my cancer came back; I had ABVD chemotherapy. In 2014 I was diagnosed with breast cancer caused by the mantle radiation I had in 1994. I had a double mastectomy and reconstruction and another round of chemotherapy. My implants failed with a total of 6 infections. Currently, I am living flat because there were no other options. I was diagnosed with lymphedema in September 2014. I was going through treatment after having a double mastectomy and reconstruction, I was told because of the number of lymph nodes removed to show clean margins, I would most likely develop lymphedema. "What was that?" I thought. Is it yet another thing to take care of after surgery, treatment, hair, and nail loss?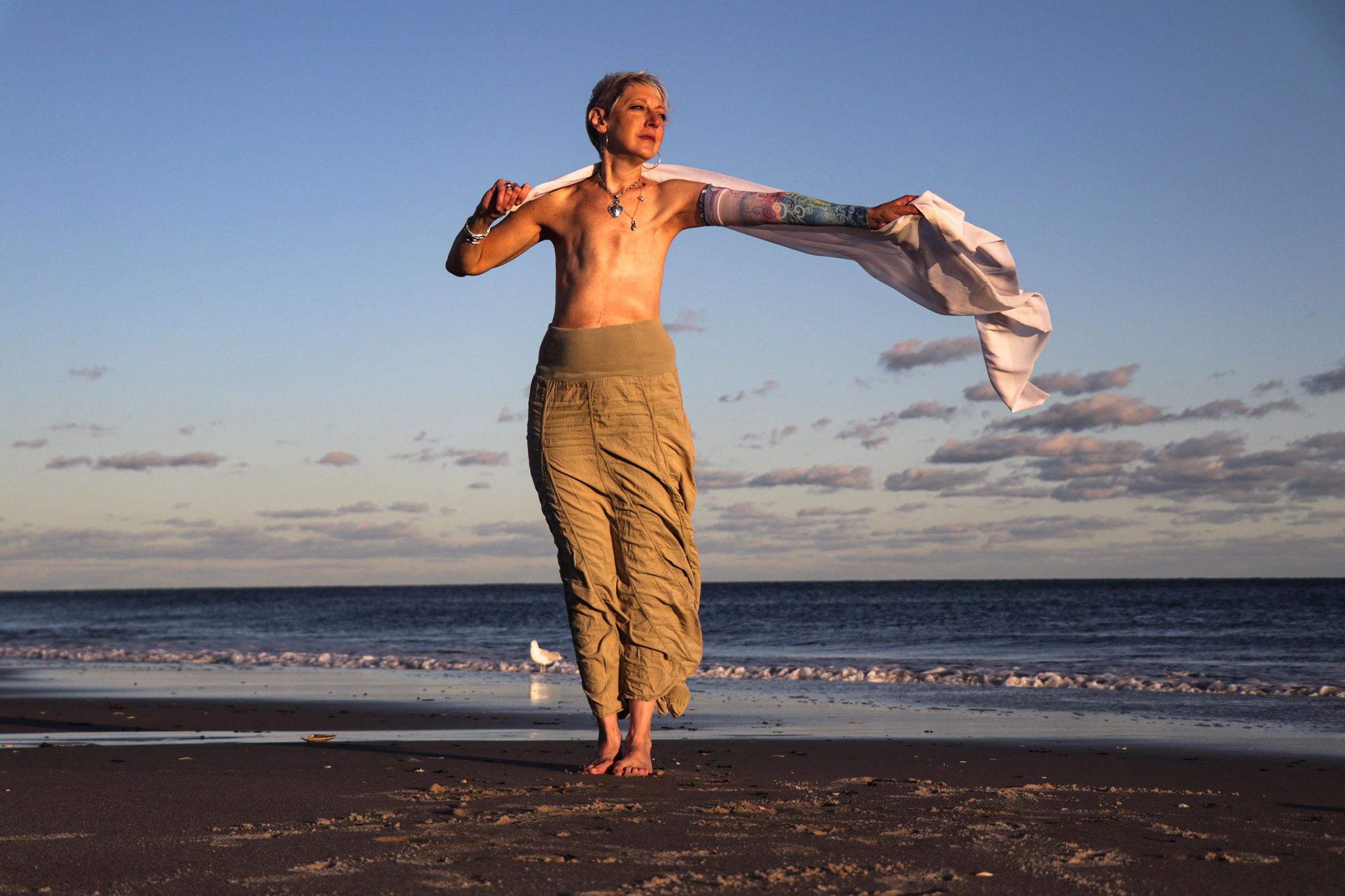 Photography by Danielle Siegel
I went to Memorial Sloan Kettering Cancer Center, to the outpatient clinic in Commack, New York. There I met Laura, an excellent lymphedema therapist, who taught me more about lymphedema and provided treatment! Once we began, I felt immediate relief, I wasn't tight or tired in my left arm, and had a great range of motion! Then we set up the next appointment, and she said: "I will see you every day for the next month..." I couldn't believe that I would be wrapped and unwrapped, taped, and untaped daily. My head was spinning, this was a very dark moment, and I couldn't get my head wrapped around it. I was fine during surgeries. I took chemo on like a trooper. But THIS now too!?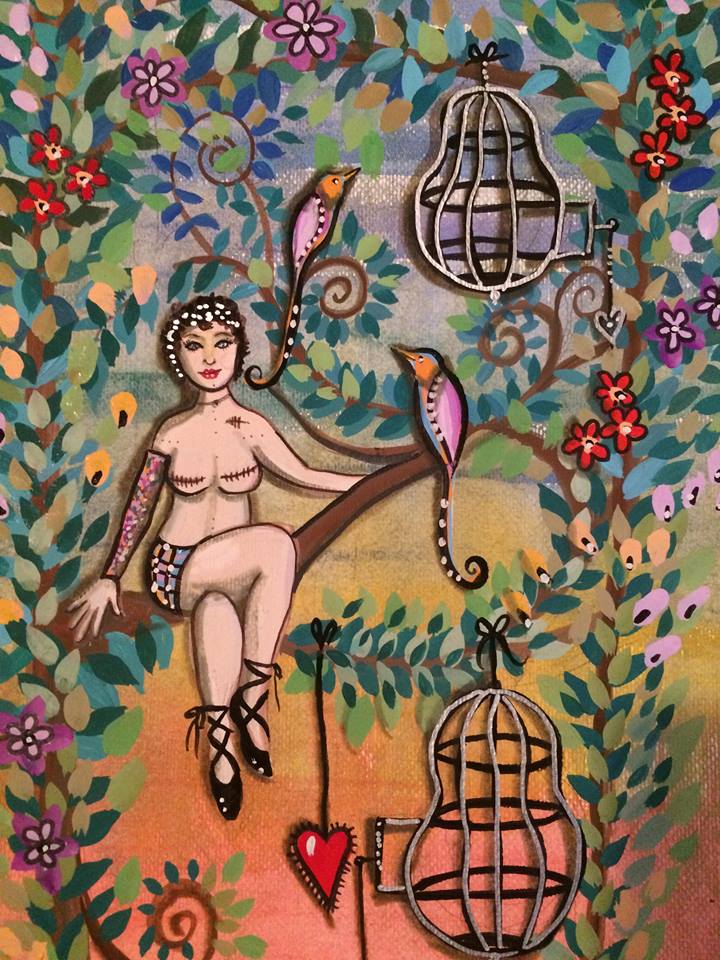 I couldn't use my left arm. I was a decorative painter, painting ceilings and climbing scaffolding, and lymphedema made it so I couldn't get back to work. Driving was difficult, showering was annoying, and at night I had to wear a night sleeve, a colossal "oven mitt" I called the "lobster claw" to keep compression even through the night.
All this had me over my limit, I became edgy and didn't go out, socialize, or do anything but sit there. At the time, I wasn't sure how long this would continue.
Meanwhile, a friend of mine sent me a podcast about LympheDIVAs. I just sat in my dark room and listened. The podcast started with them talking about a young woman named Rachel. She started this company (LympheDIVAs) to have something more beautiful than the very bland medical beige compression sleeve. Rachel created compression sleeves that would are medical and fashionable. I checked with my therapist and discovered I could get these! I went to a local shop that sizes women for post-mastectomy prosthetics and fits sleeves for lymphedema. I ordered my first LympheDIVAs design: Peacock. I won't lie; I waited by the mailbox for the delivery!
I cried when I put it on with my lymphedema therapist! Finally, I had a bit of sweet relief. I got to take back something cancer took away from me! My spirit was alive and excited! I now wear a different sleeve every day and a gauntlet and sleeve when I travel. I get many questions about my sleeve, mainly asking why I wear it. I explain what lymphedema is and how theses sleeves help medically and make the cancer patient feel better emotionally too! As an artist, the patterns add to my unique style of dressing. It works and makes this miserable side effect easier to handle.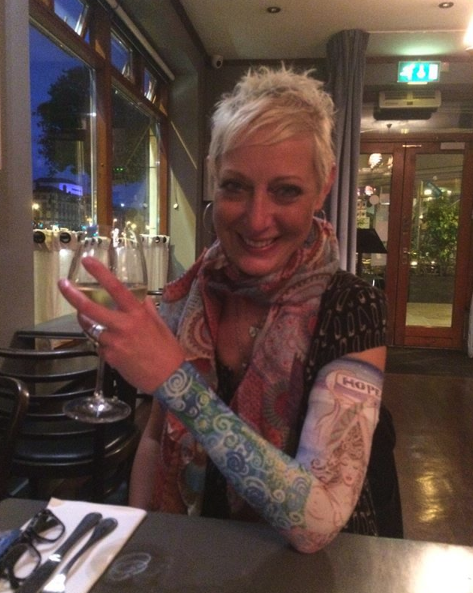 As an artist, I collaborated with LympheDIVAs to create the Hope sleeve, gauntlet, and glove design for the benefit of METAvivor (25% of each sale is donated). I'm proud to give my art to a company that I stand behind and have proceeds go to a nonprofit organization I support. I am even more proud when someone stops me and asks, "Is that a LympheDIVAs sleeve?!"
I hope you will check out my art on my site http://www.marianneduquettecuozzo.com
Facebook: Marianne DuQuette Cuozzo Artist
Instagram: marianneduquettecuozzo9128
CBS Sunday Morning "Going Flat"
New York Times "Going Flat After Breast Cancer"
"I Am Whole" documentary by Danielle Siegel
"How I Made It Through Cancer: Painting & Dreaming" Survivornet